Event Trends - More face-to-face time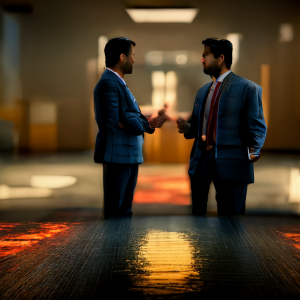 In this digital age, events have to be more engaging and dynamic than ever before. With the average screen time per day continuing to increase, a greater value is being placed on face-to-face networking events.
There was once a time when face-to-face meetings were the only way for people to hold discussions and communicate ideas to one another. However, with the progression of technology, the push for virtual meetings seemed to take over with more businesses, employees and administrators connecting over the internet. While virtual meetings have proven to be more convenient, they create a barrier between participants, making it harder to engage and develop more lasting relationships. What is missing are the spontaneous conversations that come with serendipitous networking.
Research has clearly shown in-person interactions are the best way to build relationships among people. Face-to-face meetings and events offer the chance to network and become part of a community. It is this bonding experience that is essential and at the core of any successful business relationship.
This is also why Philly Casino Parties has become extremely popular among major businesses and non-profit organizations. This group under the guise of playing a variety of casino games is highly skilled at getting meeting attendees to interact, engage and network with each other. It is truly amazing how a few hours of playing cards can foster invaluable people skills. It is exactly those skills that are the most important aspect of any business relationship.
Steven Weisz, founder of Philly Casino Parties with advanced degrees in Psychology and Education goes on to add, "We place a high value on professional relationships in the business world. Virtual meetings simply do not offer the same connections as in person meetings. As social beings, we are most comfortable when we're connected."
Weisz's philosophy permeates his company with staff and dealers, many who have been with him fifteen or more years, who see themselves as one big family. Attendees become a part of that family when they attend one of their casino parties. The excitement, passion, interest, and enthusiasm generated during the casino event is simply infectious, which is why many of his clients return year after year to use his services.
Weisz doesn't have any pretenses that his casino parties are the "end-all" for fostering more permanent business relationships, but he is quick to add, "it is a great starting place".