Casino Fundraiser in New Jersey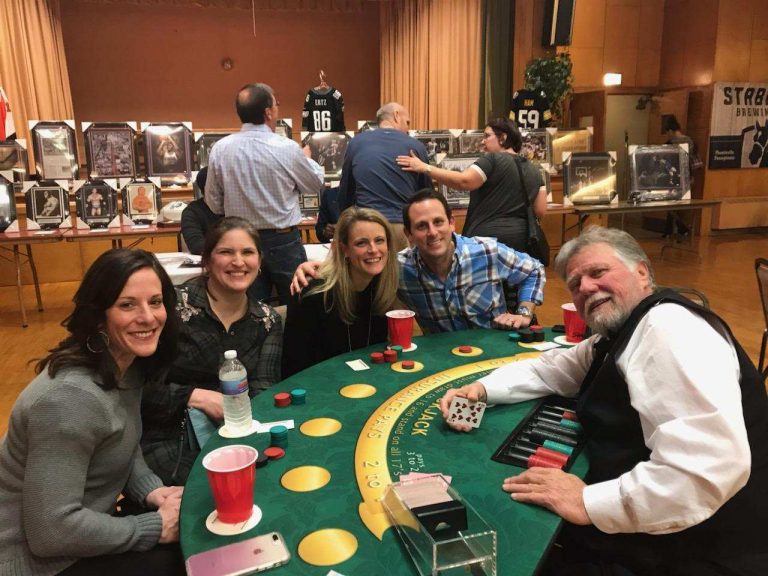 Understanding The Law For A Casino Fundraiser in New Jersey
In New Jersey we are licensed and operate under the name of Casino Parties, Inc.
State of New Jersey Charitable Gaming License #602-22
Casino party regulations fall under Legalized Games of Chance Control Commission (hereinafter referred to as the LGCCC).
1. The organization must be registered and hold a current registration certificate from the LGCCC. You must be registered with the Charitable Registration Office before obtaining a license with the LGCCC. Note: if your group is already licensed with the LGCCC, please note that there is an expiration date on the certificate. The event must take place before the certificate expires.
2. Present Casino Parties with a copy of the organization's current registration certificate, along with a completed copy of the "State Certification Form". Note: Once you have signed a contract with Casino Parties, we have 48 hours with which to file with the LGCCC the State Certification Form.
3. The organization will then receive a Form 13 from Casino Parties. Allow two weeks from the time you send in a copy of your certificate and the State Certification form to receive your Form 13. Please designate whether or not you wish to have the Form 13 sent to the organization's mailing address, or to an individual's home address.
4. Present the ORIGINAL registration certificate, along with the Form 13, and the Raffle application to the municipal clerk IN THE MUNICIPALITY in which you are having your event. You will then request a Raffle Application to hold a Casino Night. You will also need a check, payable to the LGCCC in the amount of $100, and another check payable to the municipality, in most cases for the amount of $100. Each municipality has the authority to charge a different amount, as long as it does not exceed $100.
5. The municipality will conduct a police background check on all of the members of the organization listed on the application.
6. The governing body of the municipality will vote to approve or disallow the application. If approved by the governing body, the application is then sent by the municipal clerk to the LGCCC together with the $100 check.
7. If the municipality is not contacted by the LGCCC within 14 days after mailing the application, the municipal clerk may issue the license.
The most up to date rules and regulations for New Jersey as well as all applicable forms may be found at http://www.state.nj.us/lps/ca/lgccc.htm
The raffle application form may be found at https://www.njconsumeraffairs.gov/lgccc/Applications/Application-for-Raffle-License.pdf
So How Does This All Work?
Delaware Casino Parties has been providing successful fundraisers for over thirty years to non-profits, community organizations, schools and charities. Unlike other companies, we are fully licensed to provide this service legally in the state of New Jersey.
What is unique about this form of fundraising is the simple fact that your guests feel like they are getting something in return for their donation – a fun night of networking and socializing!  People are much more willing to donate money to a cause when they feel a connection to the organization and the people involved
Our events are not only fun for your intended audience, but we also take all the work out of it by offering complete turnkey services and assistance. We will customize your casino party fundraiser based upon the amount of guests anticipated, any theme you have might have chosen and the venue you have selected for your event. Our clients continually remind us of how everything runs so smoothly that they have been able to sit back and even enjoy their own event!
SELLING TICKETS
The more successful fundraisers are those with advanced ticket sales as opposed to purchase at the time of the event. This offers your organization some guarantee of attendance as well as working capitol for your event. usually included with the ticket purchase will be some amount of chips to be used at the gaming tables. We recommend that this amount be $100-$200.
REGISTRATION & TABLE VOUCHERS
Guests upon arrival check in at your registration table and are presented with a table pass or voucher (which we supply to you at no charge). Vouchers, have a fixed denomination or value, and are then used to exchange for chips at any of the gaming tables. Some clients prefer to use their own custom print money instead of our vouchers. While we do not provide custom print money, it may be ordered here.
CHIP DENOMINATIONS & MINIMUM BETS
Chips for all our tables (except roulette) come in three basic denominations:
Red = $5
Green = $25
Black = $100
We can also offer – Red w. White Stripe = $500, and Blue w. White Stripe = $1000
We generally recommend a Minimum Bet on all tables of  $5  and a Maximum Bet of $200. Again, these are just suggestions and you can vary the amounts. Also, it can be fun in the last half hour of the event to raise the minimum bet to $10 or $25, especially for fundraisers.
The one exception to chip colors is roulette in order to identify the different players. Also, on roulette, we can allow a $1 minimum bet but you must place five $1 bets at a time. This makes the game even more fun.
RE-BUYS
Some players will run out of chips before the evening is finished. You should provide a mechanism for guests to purchase more chips. For example, for every $25 donation, they will receive another 100 in chips. We generally recommend using a 1 to 4 or 1 to 5 ratio of dollars to chips.  We never handle money for a charitable organization but our coordinator will work with your staff to offer specials and other incentives to your guests throughout the evening to encourage additional purchases.

Organizations that have a means to take electronic payments or credit cards with cell phones or tablets tend to do better at these events. Guests do not always want to leave the gaming tables to go back to the registration table to purchase more chips.  If you have strolling volunteers who can offer additional chip purchases table side, this goes a lomg ways in increasing your numbers for the evening.
CASHING OUT AT THE END OF THE EVENING
We have two basic methods for finishing up the evening that we recommend. In all cases, our dealers handle all the accounting for you. 
Method 1 – Top Winners
Based on the number of prizes you choose to have, we can count up everyone's chips at the end of the evening and tell you who the top winners are in order of chip amounts. Prizes are then given to first place, second place, etc.
Method 2 – Raffle Tickets
This is usually the preferred method. At the end of the evening, guests cash out their chips for a two part raffle ticket (we supply at no charge). So for example, for every $100 in chips you get a raffle ticket. The more chips, the more tickets and the better your odds of winning a prize. You can of course set the cash out amount to anything you like. As to prize distribution, you can call out the winning numbers at the end of the evening per prize; OR you can also display the prizes with a raffle basket in front of each prize. Guests then place one half of the two part ticket in a basket to the corresponding prize they prefer to have a chance to win.
We Are Here To Help Every Step Of The Way
With a background in both marketing and development for non-profits, our staff are more than willing to answer your questions and guide you in your planning. 
In addition, we have staff that can help guide you through the licensing procedure in New Jersey and be sure you are in full compliance for your fundraiser. We have been doing it for over 30 years!
Please feel free to contact us with your specific needs.