Exciting Poker Tournaments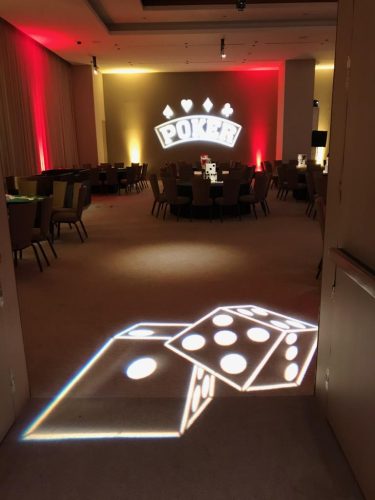 Providing The Best Poker Tournaments In The Region
Perfect for Fundraisers (NJ only)
Great for Company Team Building Events
Our poker tournaments are fun, social, and profitable.. Perfect for the seasoned poker player as well as fun and a great learning experience for poker novices.
PROFESSIONAL – INSURED – COMPLETE TURNKEY OPERATION
STATE LICENSED IN NJ WITH FULLY LICENSED DEALERS
The popularity of poker tournaments has continued to explode on the scene. Now you can inject the thrill and excitement of No-Limit Texas Hold'em into your next Corporate Event, Private Poker Party or Fundraising Activity (NJ only). From small private games to multi-table tournaments, Delaware Casino Parties offers a professional and complete turnkey solution. Never played poker before, no problem! Our dealers are more than happy to help the beginner or novice, so everyone can join in the fun.
General Features Of All Of Our Poker Tournaments
No time limit tournament play. We will operate for the same price until the tournament is successfully concluded.
Second Chance tournaments – we don't let guests who have lost the main tournament sit idle. They can continue to play and hone their skills in a second chance game.
Our coordinator takes care of everything! – tournament ladder, table assignments, blinds, count down timer and officiating.
Team Building & Networking Events
As long as there is NO cash play, no special license is required in PA, NJ or DE.
45 minute tutorial, followed by a full scale poker tournament.
Teams can be broken down by departments or individuals can represent their company divisions. Each poker table can accommodate 9 players.
Play can occur during a single session or be spread out over several dates for even more excitement and competition.
We will provide a tournament ladder to follow play.
In the end the winning team/s or players can be announced for bragging rights or even a trophy!
Fundraisers For A Good Cause
Unfortunately, Pennsylvania does not permit cash games or cash prizes even for non-profit fundraisers.
While we are licensed in Delaware for casino fundraisers, poker tournaments for fundraisers fall under a separate legal code. Most of our dealers are not licensed in DE making this prohibitive.
In New Jersey, we are fully licensed and have a full crew of fully licensed dealers.
We will guide you through the process to  get your organizational state license (NJ only) for holding a poker tournament fundraiser. Please allow at least 60-90 days for completing the process.
Tables may be sponsored by a separate company or organization.
Set rates initial buy in as well as for re-buys and add-ons to calculate your profit margins.
If you have any questions about the legal requirements in any of the states we operate please feel free to call or email us for a full explanation. We will ONLY operate in compliance with all state and local laws so as not to put your organization at risk.
Have a Poker Lesson free of charge from our dealers. Perfect for beginners or a great refresher for more advanced players. We recommend 45 minutes to an hour for a full lessor before tournament play begins.
Have A Guest Poker Celebrity Appearance from World Series of Poker – call for quote and availability.
We even have celebrity players that will discuss business skills and entrepreneurship you can learn from playing Poker! Invaluable lessons from managing risk to reading your competitors.
Get A Free Quote Immediately Online
Each of our professional poker tables accommodates 9 players and the dealer.
Order just one table or up to 15 tables! 
***Please note we do not provide chair rental. Each table requires 10 standard folding chairs or banquet chairs on site.)