Fun Filled Casino Party Packages For Live Events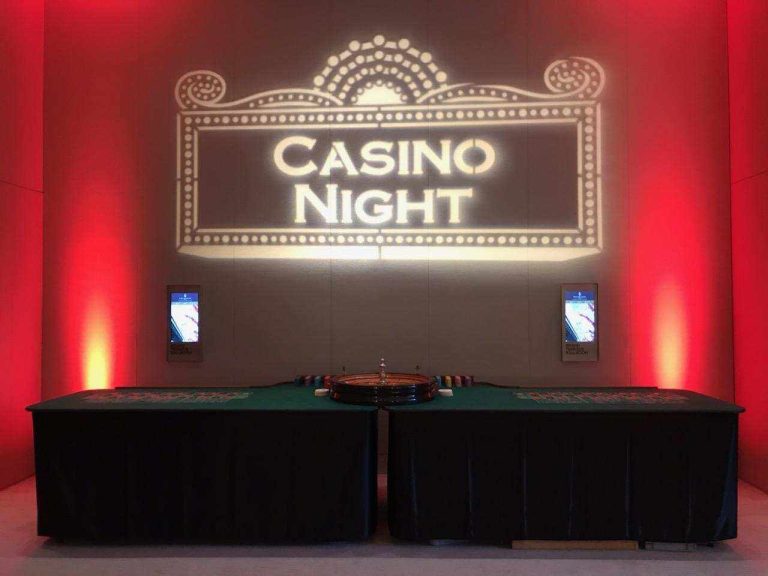 Our Most Popular Casino Packages For Private Functions & Corporate Events
Below find our most popular casino party packages based on the number of guests in attendance.
You can select one of these packages or create your own custom package based on your budget requirements.
INCLUDED WITH ALL CASINO PARTY PACKAGES: up tp 4 hours of actual game time, all equipment and accessories, professional dealers, coordination, taxes, insurance, set up, and delivery in the Greater Philadelphia Region, Lehigh Valley, Lancaster, Reading, New Jersey, and Delaware.
***Out of the area locations may incur nominal travel charges – please see our chart of locations
***For All Major Holidays an additional charge is in effect, please call us directly for a quote
***Our rates are the same whether you choose to do 1 hour or 4 hours.
***Overtime rate after 4 hours is equal to $50 per dealer.
SUBSTITUTIONS:
For all of casino party packages, the following games are interchangeable with in the same price tier:
Tier 1 – Black Jack, Poker, Three Card Poker, Let It Ride Poker, Big Six Wheel, Single Roulette
Tier 2 – Craps, Double Roulette
NO NEED TO WAIT
GET AN INSTANT PRICE QUOTE BY EMAIL WITH OUR ONLINE SYSTEM
Simply select a casino party package or casino game, add to quote, view cart, and submit to get an instant quote by email in under 2 minutes! If you are not seeing it, check your spam folder just in case or be sure you internet provider whitelists our domain.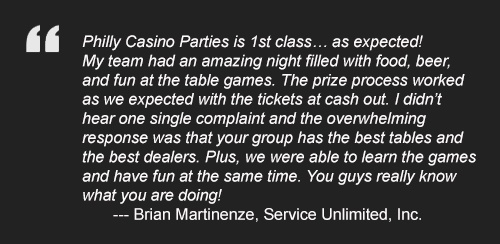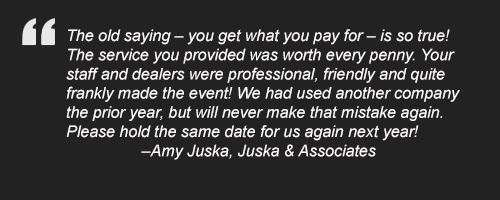 Packages for Private Parties & Special Occasions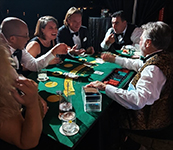 JUST A FEW FRIENDS PACKAGE
Up to 15 players simultaneously | Good for groups up to 20 people 
Perfect for house parties & special occasions
PICK ANY 2 TABLES:
Black Jack , Poker , 3 Card Poker, Let it Ride, Single Roulette, Big 6 Wheel
2 Dealers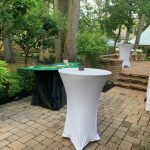 HOUSE PARTY PACKAGE
Up to 34 players simultaneously | Good for groups up to 45 people
CASINO GAMES
1 Black Jack Table
1 Full Size Craps Table
PICK ONE:  Poker Table (any style) OR Single Roulette Table
4 Dealers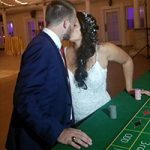 SPECIAL OCCASIONS PACKAGE
Up to 40 players simultaneously | Good for groups up to 55 people
A complete sampling of all of our best games! 
1 Black Jack Table
1 Poker (any style) Table
1 Single Roulette Table
1 Full Size Craps Table
5 Dealers
Packages for Corporate Events, Fundraisers & Larger Private Events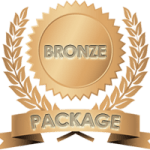 BRONZE PACKAGE
Up to 50 players simultaneously | Good for groups up to 70 people
3 Blackjack Tables
1 Poker Table
1 Single Roulette Table
1 Craps Table
7 Dealers and Coordinator


BRONZE PLUS PACKAGE
Up to 70 players simultaneously | Good for groups up to 90 people
5 Blackjack Tables
1 Poker Table
1 Single Roulette Table
1 Craps Table
9 Dealers and Coordinator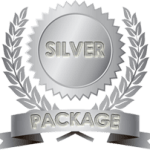 SILVER PACKAGE
Up to 80 players simultaneously | Good for groups up to 105 people
5 Blackjack Tables
1 Poker Table
1 Craps Table
1 Double Roulette Table
10 Dealers and Coordinator
SILVER PLUS PACKAGE
Up to 100 players simultaneously | Good for groups up to 135 people
6 Blackjack Tables
1 Poker Table
1 Craps Tables
1 Big 6 Wheel
1 Double Roulette Table
12 Dealers and Coordinator
DELUXE SILVER PACKAGE
Up to 115 players simultaneously | Good for groups up to 150 people
6 Blackjack Tables
1 Poker Table
1 Big 6 Wheel
2 Craps Tables
1 Double Roulette Table
14 Dealers and Coordinator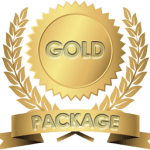 GOLD PACKAGE
Up to 130 players simultaneously | Good for groups up to 175 people
8 Black Jack Tables
2 Poker Table
2 Craps Tables
1 Double Roulette Table
16 Dealers and Coordinator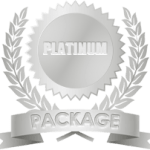 PLATINUM PACKAGE
Up to 220 players simultaneously | Good for groups up to 300 people
12 Black Jack Tables
4 Poker Table
3 Craps Table
2 Double Roulette Tables
1 Big 6 Wheel
27 Dealers and Coordinator