Poker Parties To Remember
From Home Parties to Networking Events & Corporate Get Togethers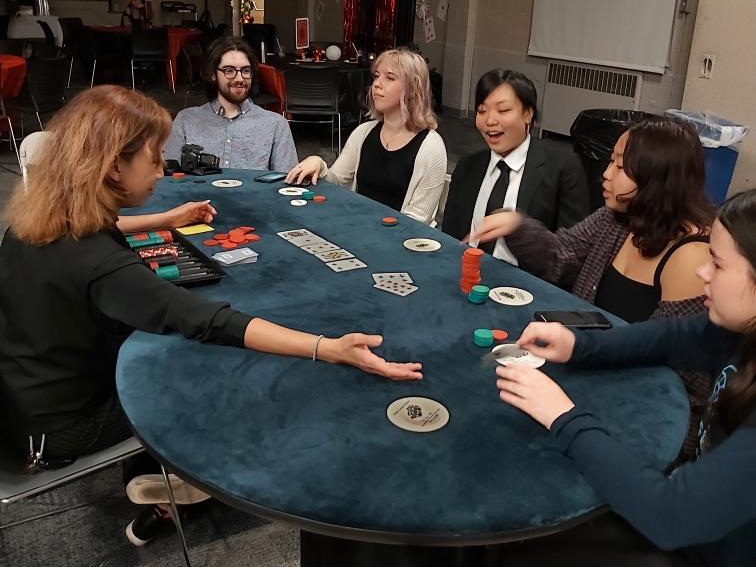 If you're going to host a poker game, you might as well go "all-in" and impress your guests.
Delaware Casino Parties will work with you to provide the ultimate poker party experience, supplying professional tables, dealers and all accessories needed.
Each poker table seats up to 9 players plus our dealer. We can accommodate small functions with only one table all the way up to up to full tournaments with as many tables as needed. 
Poker Parties are not just men only anymore! Women's Only poker parties have also been gaining popularity as well as Couples Nights.
We offer a simple flat rate for up to four hours of play at $350 per table with dealer and all accessories – cards, chips, etc. 
(We do not provide chair rentals, so you need to provide or rent 10 standard height folding or banquet chairs per table ordered).
We will be more than happy to provide poker lessons to the novice player or practice rounds to allow the more experienced to hone their skills. This way everyone can join in the fun!
Just keep in mind, that while a private function, you still may NOT play with cash or for cash prizes in any of the states that we operate in PA, NJ & DE.
We ONLY operate in full compliance with State and Local laws.
EVEN MORE POKER OPTIONS
We also offer Three Card Poker which has gained popularity not only because it's fun, but because it's also easy to learn. Three Card Poker is like getting two Las Vegas casino games in one. Not only can you play against the dealer, you can also win based on how good your cards are. The object of the game is to make the best poker hand possible with only three cards.
In addition, we have Let It Ride, another popular version of poker where the player wagers on a five-card poker hand formed by their own three cards and two community cards.