It really is not a Craps Shoot, know the difference! Full size table vs the mini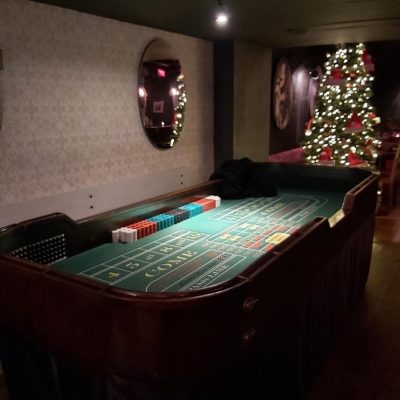 I often find our customers inquiring why our craps tables are almost twice the rate of our competitors. The answer is quite simple. We are providing you with a full size regulation craps table with two dealers that can accommodate 15-20 players at a given time. Our competitors are offering you a MINI craps table with one dealer that can accommodate about 7 players. There is a difference!
While the game of craps can sometimes be intimidating to the novice, our dealers will teach you the basics and have you playing like a pro in no time. Having two dealers at a full size table allows the game to run while still assisting those who may need a little extra help. More importantly, a full size table allows you to learn the true aspects of the game vs an abridged version.
Craps is also a very social game. There is lots of excitement both for the shooters and the participants and spectators. The more players, the more excitement generated for your event. It also encourages social interaction and a wider scale than a mini-table ever can.
So yes, you are paying a bit more for our full size professional craps tables, but you are also getting a lot more of a return for the price difference!