A Hard Sell For My Company Event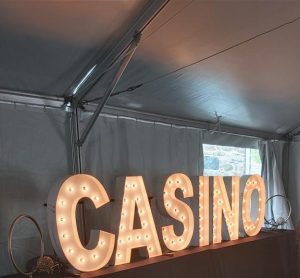 The following is an excerpt from a letter from one of our more recent corporate clients...
As you know, when we initially spoke, I was very apprehensive about holding a casino party event. This was primarily because my company leans towards being conservative and is in the financial sector. However, I still needed an interactive networking event for our 200 attendees. Your company had come highly recommended.
Right off the back, I have to say I was more than impressed by the level of communication and the speed with which you replied to all my calls and emails. This is a rare level of customer service for any industry. I do not think I ever had to wait for even more than 2 hours for a response, even when I left you a message at 8pm in the evening from the road.
I was also impressed that you never tried to oversell me with more equipment than needed and even found ways for me to cut costs and stay within budget.
Even before the day of our event, you had reviewed the complete flow of the evening, re-confirmed everything a week out from our event, and put me in direct touch with the lead dealer (pit boss) for the evening. You also coordinated directly with our venue for a smooth delivery and load-in without my asking.
On the day of the event, your crew arrived way in advance of the agreed-upon load in time to ensure everything ran smoothly. Set up was done quickly with no issues at all, and everything was ready and looked great way before any of our guests began to arrive.
Once the event began, my boss and company CEO were not only impressed but already playing the casino games and having a fabulous time. The dealers were extremely friendly and had everyone at the tables engaged and interacting. You were correct that this was not about gambling but about creating an atmosphere that allowed our guests to really get to know each other and interact.
It was a perfect evening for which I am still getting praise from both my bosses and attendees. I also have to say that you made it the easiest of events to execute. Our whole company cannot wait to do this again next year!