CRAPS IS REALLY NOT SCARY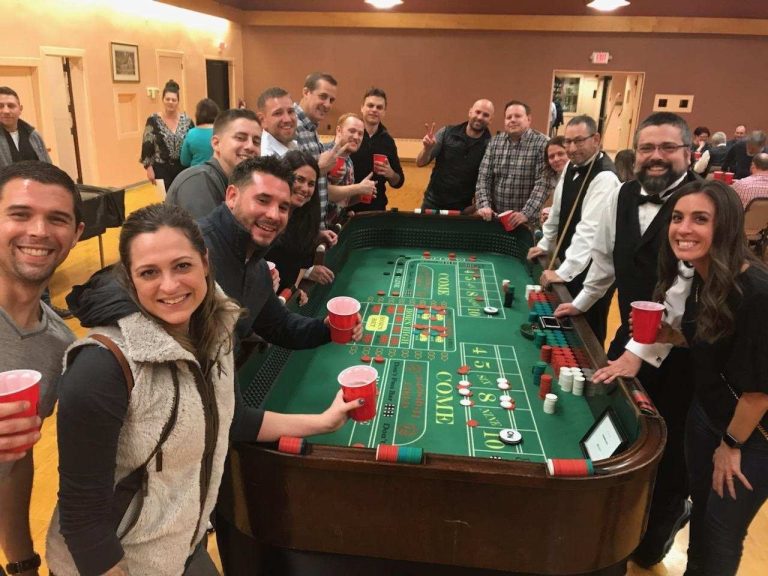 Craps. Looks scary, doesn't it? 
Looks too intimidating, complicated or confusing?
In fact, once we teach you the game, it will become your favorite!  Over the years, we have spent quite a bit of time convincing people to add a craps table to their event. Now those same customers are not only ordering it again year after year but they are also getting multiple craps tables because of guest demands.
We have also seen a trend this year, where companies hire just our craps table for corporate team building events, which start with a lesson for everyone and then a chance to test their skills.  All of our craps tables are "full size" and come with two professional dealers. Each table can accommodate 15+ players at any given time.
Keep in mind, that unlike regular casinos, our events are for entertainment only. You are not playing with cash or for cash prizes at any time. So you have nothing too loose in trying things out.
Keep it simple to get started. Bet the pass line only and you are playing a bet of good odds which is also easy to understand whilst you watch the rest of the game and get confident enough to try some of the other bets. Wait until you see the word OFF on the table marker (called the puck), and place your chosen chip value onto the table in the space between the lines marked pass line.

The dice will then be handed to the next shooter. If the shooter (the person who is rolling the dice on that turn) rolls a 7 or 11 on that first roll, everyone betting on the pass line wins, if they roll a 2, 3 or 12 the pass line loses. Anything else and they will then continue to roll to hit that same number again (called the point) which means the pass line wins, or a 7 at which means the pass line loses and the next shooter will be the person to the left of the previous shooter.
When it's your turn to roll, make sure you hit the back wall of the table with the dice and try to keep the dice on the table. If you do throw them out don't panic, it happens all the time. Hitting other people's chips with the dice is considered bad luck. If you hit the dealers with the dice you will have to run around the table – LOL.
Oh, don't forget, never put your hands over the table unless you are placing bets or rolling. Never place your hands into the table after the dice have been passed to the shooter.